Jovian Laser is still in the queue of "waiting for review."  It has only been five and a half days since I uploaded it.  Perhaps I'll hear something by Monday.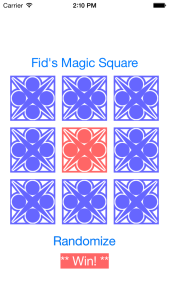 I went on working on another little game that I used to play on Merlin.  It is a 3×3 square that you have to get the outer panels on and only the center one off.  I selected red and blue as the colors.  So, a red one in the center and blue ones going around the outside would constitute a "win."  It is a simple puzzle game.
This morning I added sounds, created in Garageband, for the touching to change the colors and one for winning.  I made this one in Swift.  I decided to not use sprite kit.  I was beginning to think I should drop back down to xCode 5.  I know that one a lot better.
(OK.  I tried to put the picture up within the text and have it flow around the picture.  Now to search for the option to do that. I finally got it moved up into the text now to put a border around it.  I had to adjust the CSS file.)
I am going to test out this little puzzle on my phone a little bit more and then prepare it for uploading to the iTunesConnect site and get it into the queue.  I think this one will be free.  I liked that game when I was young.  I am glad to get a chance to share.